PHOTOGRAPHIC
LA/AeroPhotos will photograph your projects using the state-of-the-art digital camera equipment, or when necessary, traditional medium/large format film cameras will be utilized.

We use ONLY the best professional lenses available, and have a keen understanding of optics. Gary has personally tested many of our lenses in projection rooms and on a MTF optics device.
AIRCRAFT
Contingent on the size, scope and location of your project, we have a number of aircraft available to work with. Whether it is a small helicopter or large fixed-wing aircraft, we will provide the appropriate aircraft to do the job right.
ELECTRONICS
During pre-Flight, we utilize advanced navigational equipment, along with computers with specific software to plan and locate our shoots. We quite often acquire satellite photos and use our digital USGS maps of your area, to evaluate our needs BEFORE we approach by air. On occasion, this information will be sent to our clients for their input, and to confirm the site location.
DIGITAL WORKSTATIONS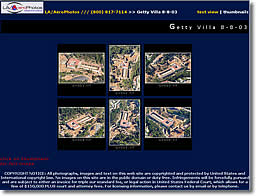 Click here to visit our sample webproofs gallery.
LA/AeroPhotos make use of multiple digital workstations, to provide professional digital laboratory services, to quickly complete your job, all in-house.

We offer graphic enhancements (names, logos, property lines, directions), digital enhancement/retouching (of any kind) and full-size printing, in addition to CD-ROM and fast internet delivery. Courier service is also available.
Our fast Webproofs Service will allow you to quickly review the image proofs, and select those you would like printed and/or digitally delivered.